If there's a brand that has me obsessed over wearing comfortable underwear, that brand is Cosmolle. For my whole life, I've been using bras that are for sure comfortable, but eventually, at the end of the day, I've been wanting just to remove it and feel that amazing feeling of freedom that we, women, get once we get our bras off.
Cosmolle is a brand where that believes that bras should be comfortable, that's why they do offer you the most comfortable wireless bra for sure. And this is only possible because they use unique designs and advanced fabric technology to give you a level of bra comfort never experienced before.
They are an inclusive brand, so they celebrate all body types, shapes, colors, lifestyles and sizes, and ages. They have a culture of inclusivity and diversity. They are also a sustainable brand, that uses recycled elements to create products that have good quality and are durable, so you'll need to buy less of them, not only saving your wallet but the environment too.
Their bras have collagen infused-fibers. If you didn't know, collagen is a protein that promotes not only healthy bones but also healthy joints… as well as helps helping stimulate the production of new skin cells… of course, production is most important, keeping skin youthful, smooth and soft. Which is an amazing thing, as they help you do skin care differently.
Their bras are truly comfortable, and you won't need any more of having to take them off at the end of the day. These are a few of my favorite bras from them that I'm obsessed with wearing every day. By the way, don't miss their sale coming up soon, you'll most likely be able to get your favorite black Friday bra or yoga sets at the best price.
Once you know about them, you'll truly understand why they are my favorite and why you should give them a try if what you are looking for is comfort and taking care of your skin in a different way than the one you are usually used to.
We are starting with the AirWear Wireless 3D Enhance Bra. This one is an amino acid-rich bra that also has collagen and antioxidants. These elements will help improve the elasticity of the skin, reduce also the signs of aging, and also keep your skin cool and also hydrated. This bra is breathable and keeps its shape, even after several washes. It has smoother sides and invisible lines and no seams while providing the best wireless support. You can wear them to work from home, to sleep, or even to go out, it is up to you.
Then, we have the Daily Comfort Adjustable Strap Wireless Bra. This doesn't only combine support and comfort but also provides versatility. It has smoother sides and also invisible lines and it also provides amazing wireless support. The fabric technology it is made of is breathable and stretchy. The cup shape has been molded to provide support but it is also lightweight. It provides a smooth fit eliminating lines. You can perfectly wear this one while going out, working out, working from home, or even sleeping.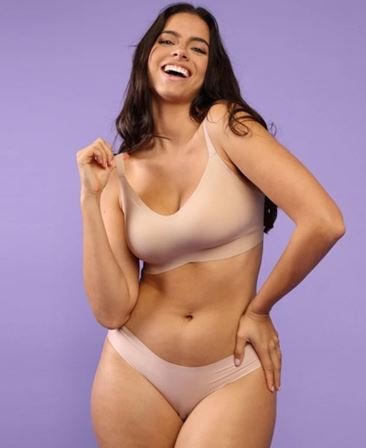 And last but not least, another of my favorites is the Ultrasoft with Lace Wireless Daily Bra. This lovely bra is made with lightweight and very soft fabric, that offers a gentle touch and lets your skin breathe. Its underwire design will provide moderate support to your breasts while also offering a fit that is curve-conforming. The shoulder straps are fully adjustable and also have a closure with hook-and-eyes that provides natural shaping too. The cups that have been softly molded have delicate lace floral detailing. It is an unlined bra that is also wireless and has a V-plunge. It can be the perfect choice to wear during summer as it is super lightweight and breathable.